Stepping Up! Team Leads
DO YOU:
Have a Passion for real estate and your fellow Realtors?

Want to grow your business 30-50% in one year?

Want to develop your team to its fullest?

Want to live the Life of Your Dreams while helping others achieve theirs?
WE HAVE:
A business model that is desperately needed in our business today! With our years of serving "Retiring" agents, we've developed tried and proven strategies that serve their needs with the added result of significantly building our own businesses exponentially! We've developed the systems and materials for reaching out to our Referring Agents and making sure the process flows smoothly for them and offers them and us continued income. Finally, a retirement plan for Realtors that works!
Our System Includes:
Handouts & Mailers –Helping you to be Professional and Organized

Focusing on Individuals – Who, How and Where?

Educating Conversations – What Works and What Doesn't

Other Agents – How to Get the Word Out

How to Keep Everyone Happy and Earning

How to Build an Effective Team

How to Keep Everyone Engaged
What We Believe
We believe in Realtors and have the heart to help them develop a successful exit strategy with continued earnings for years to come. We believe agents should have the ability to be involved in real estate at whatever level they desire while maintaining this income with the freedom to travel or achieve their individual dreams!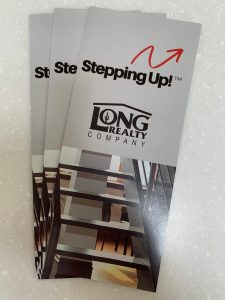 We'll have our designer add your branding to our Stepping UP! brochure for distribution to potential Referral Agents and Referral Agent Sources.
Turn Your Dreams into Realty!