Our Passion!
Our Passion is to see real estate agents achieve their retirement dreams. You should have the freedom to be involved in the real estate community at whatever level you desire while maintaining income, and have the freedom to travel or achieve your own individual dreams!
We have many great Realtors® associated with our Stepping Up! Teams who have their hearts focused on helping other agents achieve this desire. Many of us have not had the opportunity to plan for our succession strategy, and we're rapidly approaching that magical time of life. If that's you, we're here to help – it's our passion! We've been doing this for many years and have seen many agents achieve successful retirements with continuing incomes. This is what drives our teams and brings us joy! After all, we'll be there ourselves someday soon. Together, we can make this happen!
Why should you just walk away from this hard-earned asset you've spent years building up? Our system is proven, effective, and most of all, PROFITABLE for all! For more information, CLICK HERE and download our book.
Stepping Up! is a proven real estate system that works for agents wanting more time away from their business for many reasons:
More travel time

More family time

Focus attention on another business

Take a long-term break for family needs, medical reasons, new baby, etc.

Retirement (we never use the "R" word, it kills business and we'd rather generate it!)

All with continued earnings!
Contact Us today for more information (find out how we did it!)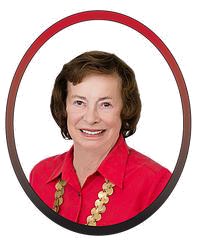 "I'm delighted with the professionalism and structure of the Stepping Up! system and all who work enthusiastically to place our clients' interest first. I'm delighted that our clients will continue to be well served. Plus, I can be involved as much or as little as I choose! Love real estate but want to work less? Join the Stepping Up! system and relax! I'm having fun!"​
— Barbara Murray
(GRI, ABR, ePro)