From Tucson Real Producers Magazine, October 2020
Stories from the Other Side!
We are often asked, "What is Stepping Up?" Well, maybe you should hear about it from the "Other Side", our referring agents!

Sherie was one of the top Realtors in Southern Arizona. Her business had grown into a valuable asset as she approached her time to step back. She wanted a Succession Strategy that would work. Sherie was offered a low $15,000 to sell her book of business, that seemed weak for a lifetime of work and a loyal sphere. So, she asked her professional coach, "How do I get out and still optimize my income?" Together, Sherie and her coach worked out a plan. Plan A, Sherie watched several prospective Realtors in her office who she felt she could trust to care for her clientele. One by one they failed to fill her shoes. On to Plan B which was to start referring out some of her clients to agents in her office and see how they handled them. Over a couple years she saw who took good care of her clients, who communicated well with her, and who was "hungry"! Finally, Sherie and Tom Ebenhack connected and that started a long-term business relationship that has since grown into Stepping Up! – Teams that specialize in Successful Succession for experienced agents. Sherie had been looking for a succession plan for 5 years when Stepping Up! stepped in!
Sherie has been with Stepping Up! for 8 years now. Her income and loyal sphere are both still going strong. She loves talking with her clients. She also loves not doing her transaction work and marketing! Sherie is her team's number one client and most valuable Team Member. Now she travels when she wants, works if she wants, enjoys her friends, family and frequent paychecks!
Here's what Sherie has to say, "As I considered changing my real estate career from full time to a Referring Agent, I looked at many different options over a 5-year period. I decided that the Stepping Up! approach was by far the best to keep my name and marketing in front of my clients (and at no expense to me I might add!), and to assure that my clients would be taken care of in the same professional manner that they had been used to."
Our Reality is, there are plenty of classes that teach you how to get into real estate, but no one teaches you how to get out! You spend years building a valuable business, an asset that supports your family, your travels, your whims, YOUR LIFE. So how do you let go of that baby? That was where Sherie B was before we came together. Together we developed a long-term plan aimed at keeping Sherie in front of her clients while she could enjoy the next chapter in her life. Sherie's succession plan was an enviable success. Other agents began asking her what she was doing. Stepping Up! was asked to offer the same services to other Realtors who wanted to downsize their involvement in their business. We researched numerous options and focused our unique succession plan on highlighting Stepping Up! Agents within our teams. We have extended their visibility in real estate well beyond their working years! Our business model caters to agents who want to downsize or decrease their involvement in real estate, either permanently or temporarily, while maintaining a stream of income for more years than was ever imagined.

And then there was Barbara. She and her husband had built a fabulous business. After her husband's passing she continued in Real Estate with her son Jack. But Jack had other dreams and eventually left Real Estate to pursue them. Business practices had changed over the years, like transaction management systems, marketing techniques and company filing systems. Jack had taken care of that nitty gritty side of the business and Barbara didn't want that part of that back! Initially her options seemed to be retire or learn all of the new systems and handle the marketing herself. Neither option sounded appealing. She needed support and help with the details of the business. Barbara sought out Stepping Up!. She quickly adapted to the benefits of being a leader within our team. She enjoyed staying close to her clients, who had become her close friends. We accompanied Barbara as she met with each client, introducing her sphere to her new team members. We took care of all the scheduling, negotiating and paperwork, while Barbara took care of the relationships! Of course, we were developing relationships with her clients along the way. The best part was, if Barbara wanted to travel or step away from her business, we had her covered. She had freedom at last! Over the years she has let go of more of the business details, but Barbara is always in front of her clients/friends and loves focusing on the long lasting relationships that come with being an exceptional and compassionate Realtor.
Barbara says, "I'm delighted with the professionalism and structure of the Stepping Up! system and all who work enthusiastically to place our clients' interest first. I'm delighted that our clients will continue to be well served. Plus, I can be involved as much or as little as I choose! Love real estate but want to work less? Join the Stepping Up! system and relax! I'm having fun!"
Our Passion is to see Realtors achieve their retirement dreams. That's what drives our teams to do what we do! After all, we'll be there someday ourselves. It has been said that we teach what we needed the most. We too have retirement dreams we're reaching for, perhaps that's why our Teams are so passionate about this subject.
Our Solution is six teams spread throughout Tucson and Southern Arizona to take care of our Realtors' needs. Here's a look at our teams and their hearts: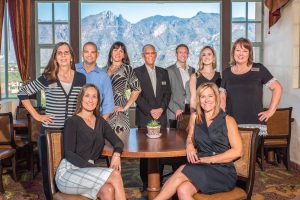 Lexi Price & Jake Campbell, The Tucson Homes Team, Long Realty Foothills
It has been our passion to serve the needs of our clients and unburden them of the stresses that occur when buying or selling a home. With our Stepping Up! Team it has been our priority to do the same with our referring agents. We understand they have worked hard over the years to build a business and earn the trust of their clients. However, eventually agents reach a point where their attention needs to be focused on other aspects of their lives. Whether it is for medical reasons, or wanting to work less and travel more, our referring agents have the freedom to live their lives to the fullest, while still earning income, and knowing their clients are taken care of. We feel joyful knowing we not only help a client buy or sell a home, but also help create financial security and reduce stress for our Referring Agents.
Heather Shallenberger, Shallenberger Team, Long Realty Oro Valley
Over the years, we have taken care of fellow agent's businesses while they healed from severe car accidents and other personal issues that took them out for a period of time. We were able to take care of their clients and then return their business to them when they were ready. I realized what an important service this is and that we all need help from time to time so when we heard about Stepping Up!, it was a natural fit! We love being able to help agents in crunch times as well as when they are ready to retire!
Lori Mares, Lori Mares Team, Long Realty Tanque Verde
Real Estate is my second job, retail was my first. My first day in retail, in orientation, the company talked to me about retirement plans, profit sharing, 401k's. I was an hourly sales floor person at the time. After 12 years in real estate, still not a single word from anyone about retirement. We as Realtors have to fend for ourselves and create a means of continuing our stream of income from our years of hard work even after our involvement has diminished. My team and I have developed an amazing group of friends within our clientele, but we have also built a solid database with value as a business. Just like Doctors, Dentists and other professionals, we deserve to have succession plan options for our business. Partnering with our Brokerage and a very talented group of peers, Stepping Up! teams are committed to educating Realtors about the various options they have when scaling back and offering a proven succession program that brings Realtors an opportunity to extend the life of their business and their income well beyond their working years. Stepping Up! is the plan we as professionals deserve!
Nancy Hennessey, Hennessey Team, Long Realty Central
My goal everyday is to find a need and do my best to fill it. Most days it's real estate related, but not always. I've honed that skill and often see a need from frustrated or exhausted real estate agents who want new choices. That is how I build my team. I offer new choices. I fill needs. My favorite saying is "it takes a village" and isn't that the truth?
Leah Reeder & Adrian Alejandro, R|A Home Team, Long Realty Sierra Vista
Leah and Adrian, a sister/brother team, have a heart for other Realtors and a desire to help them as they consider moving on to other aspects of their lives. The family ties go deep, and so does their commitment to real estate agents in Southern Arizona. Their desire is to see you succeed in your retirement, or whatever is pulling you away from the time demands of your real estate business.
Stacey Bell, Long Realty Green Valley
I have always been in a service industry, and find both great joy, and reward, in helping people. We give tremendously to our clients and spend a great deal of effort and dedication into building our business, it really becomes a large part of who we are. Why should all of that hard work and effort slip away? I am super excited to be part of Stepping Up!, to foster connections with agents that are ready to reap the rewards of their years of building a successful business, without losing the income value they deserve.
FREE CE Course! Want to hear more about Stepping Up! and other available options, or just want some FREE CE credit hours (Commissioner's Standards)? Join our Zoom class, Exit Strategies for Realtors, Thursday, October 22, at 1:00 pm. Look for it on the TAR site.